Studio Technology
Our studio system was designed from the ground up to deliver professional level results. There are no lazy choices in the technology here - everything serves a useful and individual purpose.
Analogue equipment and magnetic tape handles sound in a way that digital just can't match for warmth - yet digital gives many advantages over solid state equipment, in terms of less downtime, precision editing, long term storage, and instant project recall.
Our system is a hybrid analogue/digital system, which combines the winning elements of both.
Just check out these specs. If you have any questions, we will be more than happy to explain what all these things mean for you and your music.
Classic British analogue console with 24input channels, with 4band swept EQ, phase, 48V pad per channel
16x analogue busses to record, with a further 24x digital busses to record
2x paired Focusrite Class A channel strips, with de-essing from the classic ISA430 and digital and analogue recording paths
96x channel digital recording system, with up to 128x audio tracks and 256x MIDI tracks per session
A choice of Japanese, German and American digital audio converters
Upto 192kHz at 24bit sampling rates
Choice of 64bit digital mixdown, or 40channel analogue mixdown
Focusrite stereo master compressor/limiter
Choice of mastering to 96kHz DAT, 1/4inch mag tape, or direct to disk
Formats conversions to most digital formats
CD master preparation to Red Book audio standard
Video film editing, sound to picture, mastering to DVD
3.4GHz 64bit i7 computing with 16Gb RAM and 5TB of storage
A choice of 32 or 64bit editing software
Wide session visibility with 3840x1080pixel display area
197x voices of hardware synthesis
Choice of 88note piano weight or synth key actions
Over 400x state of the art effects and instrument plugins
Over 50x synth VSTis covering the widest selection of classic and modern synthesis
Essential and massively expanded dance/trance plugins by NativeInstruments, Synapse Audio, Synthmaster, Spectrasonics
Massive drum sample library by Toontrack
Additional drum samples of all the major classic synth drum modules, a collection not available commercially
Ability to score music and tab, and print with Sibelius
Full orchestral sample library by EastWest augmented by other leading titles
Choice of the best pianos by Synthogy, EastWest, Kurzweil and NativeInstruments
European, Eastern and Far Eastern sample library
Polyphonic pitch and intonation correction
Software models of many of the most iconic consoles in history
Assortment of condenser and dynamic microphones covering most acoustic instruments including live drums
A collection of 6 and 7 string guitars
Valve guitar preamp
3x hardware multieffects units for analogue setups
Back up multitrack system
3x hardware sequencers
2x hardware arpeggiators
Ableton Live and Launchpad
Capability to create multiple headphone and cue mixes in parallel
Customised console VU metering for tape operations
Warm Analogue Sound
Soundcraft 6000 console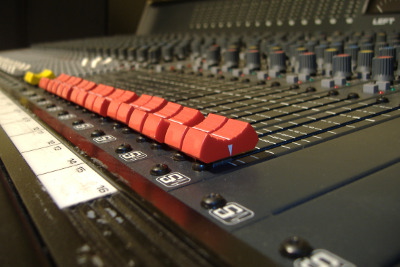 Centre-studio is a lovingly restored Soundcraft S6000 producer's console salvaged from the BBC.
The S6000 has 24 main channels with 4band British EQ, 6aux sends, individual 48V pad and phase switching, Penny & Giles smooth as silk long throw faders. It also 16 LED metered busses with 2band EQ, 2aux sends. These combine for 40channel analogue mixdown. We have customised it slightly, adding Sefam VU meters to the master output.
Focusrite Compression
Talk to industry professionals about compression and its not too long before Focusrite comes up in the list of desireable purchases. We have a stereo Focusrite Green dual compressor/limiter, which internally is very similar to its famed sibling, the Red 3. This is typically used on the master buss output, but can equally be used during tracking.
We also have 2 dedicated Focusrite channel strips, Class A preamps with de-essing circuitry taken from Focusrite's legendary ISA430, and with useful sections adding EQ, expansion, harmonics, compression, tube-sound, and digital conversion. These channels are paired digitally for stereo recording.
Tape Mastering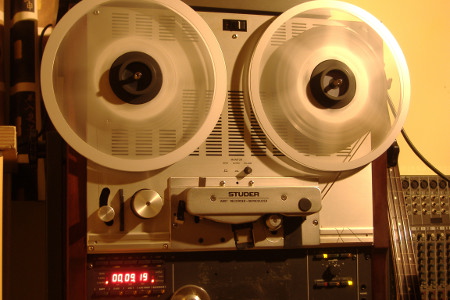 The Studer A807 1/4inch tape recorder was Studer's last word on magnetic tape, and features a very highly engineered tape transport mechanism and Dolby-HX noise reduction. We have 2 of these lovely machines, which we use for bouncing audio during mastering.
Magnetic tape does not so much have a generic sound of its own, but each tape formulation has a unique and smooth compression/saturation effect when driven a little harder, which to many ears is superior to the effect you can achieve in digital.
Monitoring and Phones
Our nearfield monitors are based on uprated Yamaha NS10's, which feature a larger bass driver and individual amps. Our mid-fields are tried and trusted JBL 4410A's ported 3way speakers, powered by a stereo Crown XLS amp. We have Beyer DT100 headphones, and capacity for up to 6 headphone pairs.
Microphones
We have a selection of dynamic and condenser mic's by AKG, Rode, Sennheiser covering vocal, guitar, bass, drumkit and other acoustic instruments, with a choice of signal paths to disk, depending on the project at hand.
Cold Digital Precision
Avid ProTools HD3
ProTools HD is THE standard in professional audio recording the world over.
Our system is a fully expanded 96channel Avid ProTools HD3 system with 3x PCI-X 32bit DSP cards and fronted by a choice of Avid, RME, and Akai converters. This platform presently provides up to 32channels of simultaneous live recording, so if you are an afficianiado for all live sound, we have you covered.
Our ProTools HD3 system runs at version 10.3.10, which is the latest version for 32bit HD systems - while our ProTools ASIO system runs at version 11.3.1. What's the difference? The HD3 version is a 32bit version featuring dedicated DSP chips on PCI cards, boasting a lot of extra processing power for plugins. The ASIO version is 64bit and runs on the 8core Intel I7 chip exclusively, and is able to access a far greater RAM memory range. Which we use depends on the complexity of your arrangement and what kind of processing power is needed.
Editing Software
Although we record most of our studio projects in ProTools (x32/x64), we also have versions of Ableton Live 9 (x32/x64) installed for designing and building live sets. Ableton was written expressly for live performance work, so it makes sense that after you have finished your record, you would move to creating samples, loops and phrases suitable to get your show on the road. We have a Launchpad S as well.
We are also in a position to create and edit video in Sony Vegas and HitFilm (both x64), which may interest you if you are hoping to create content for YouTube and other video platforms. Audio is just one component in an artist's media collection, but video is a whole new level. If this is of interest, do talk to us about your ideas.
Fully Licensed
It is worth nothing that we have no pirated/cracked or key gen'd software here. We have full licenses for all the software we use, and try to run the latest versions with manufacturer support. We take an active interest in the development of the tools we use and are in regular contact with the software developers involved in the hope that the next generation of software will improve.
VSTi Plugins
We have an enviable collection of well over 400 state of the art plugins by leading manufacturers including Ableton, AIR, Avid, BlueCat, Digidesign, EastWest, Dolby, Focusrite, Kush, NativeInstruments, Sony, Synapse, Synthology, Synthogy, ToonTrack and Waves. There are literally too many to mention.
The plugins range from dynamic effects like compressors and limiters, many of which are models of the best analogue units ever made, to stunning chorus, delay and reverb effects processors.
VSTi plugins account for many of our most used sound sources as well. From samplers like NI's Kontact, through pure synthesis plugins like Synapse's Dune, to orchestral libraries by East West and VSL, to pianos , drums, bass and many more. Our collection of sounds has been greatly expanded through third party libraries, which include a lot of Eastern European and World Music sounds, so you will never be short of unusual sounds to add to your track.
Guitars and Amps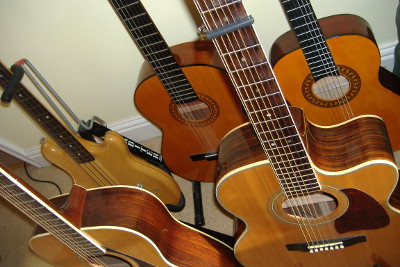 We are fans of 7 string guitars, for their extended range and oversized body, which can be really useful when recording acoustically. We have 2x 7string Ibanez acoustic guitars, separated in colour and by about 20 years in age. We also have a 24fret PRS 7 string electric, and a heavily customised 22fret Ibanez Gambale FGM100 6 string electric. There is a 3/4 sized Stagg nylon guitar useful for folk and latin performances.
When it comes to amps, we have a Fender Mustang, Vox Valvestate and Marshall JMP1 valve preamps. These are backed by modelled amps by NativeInstruments, IKMultimedia, and Waves.
This approach gives us a variety of tone stretching from the single coil sixties, classic rock and roll, eighties brittle tones, sultry Les Paul esque tones, sparkling acoustic guitars, country picking, heavy heavy rock wih dropped tunings, and folk music. Many artists like to combine these options with the sounds of their own guitars and amps. We recommend a thorough set up and maintenance cycle BEFORE hitting a session, which at the very least means brand new strings, and fault free electrics.
Keyboards and Synthesis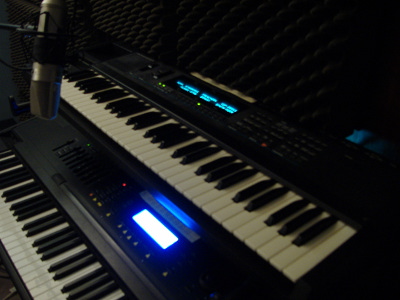 We have a choice of synthesizer keyboards - 2x 88note Kurzweil master keyboards, a K2500XS and a PC3, and a 61note Ensoniq VFX-SD mkII. The Kurzweil PC3 is a state of the art production synthesizer, which has been fully expanded to include the latest sounds, and the Ensoniq is a great example of warm 80's digital, with a breadth of sounds covering ROM samples, wavetable and synthesized waveforms.
Kurzweil K2500XS 88note VAST synthesis, 128Mb sampler, 48voice polyphony, KDFX, DMTi digital outputs
Kurzweil PC3 88note VAST synthesis, Kore expansion, 128voice polyphony, effects, digital outputs
Ensoniq VFX-SD mkII, 61 note, 21voice polyphony, dual effects, analogue outputs
Access Virus, HD TDM DSP version, 20/40 voices per instance
Over 50 VSTi instrumental plugins (see above)